Page 8 - Enrollment Guide 2023-24
P. 8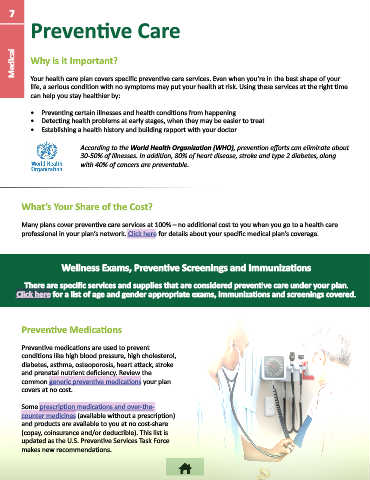 7
           Preventive Care





     Medical  Why is it Important?



           Your health care plan covers specific preventive care services. Even when you're in the best shape of your
           life, a serious condition with no symptoms may put your health at risk. Using these services at the right time
           can help you stay healthier by:

           •  Preventing certain illnesses and health conditions from happening
           •  Detecting health problems at early stages, when they may be easier to treat
           •  Establishing a health history and building rapport with your doctor

                           According to the World Health Organization (WHO), prevention efforts can eliminate about
                           30-50% of illnesses. In addition, 80% of heart disease, stroke and type 2 diabetes, along
                           with 40% of cancers are preventable.






        What's Your Share of the Cost?


        Many plans cover preventive care services at 100% – no additional cost to you when you go to a health care
        professional in your plan's network. Click here for details about your specific medical plan's coverage.





                     Wellness Exams, Preventive Screenings and Immunizations


         There are specific services and supplies that are considered preventive care under your plan.
      Click here for a list of age and gender appropriate exams, immunizations and screenings covered.





        Preventive Medications



        Preventive medications are used to prevent
        conditions like high blood pressure, high cholesterol,
        diabetes, asthma, osteoporosis, heart attack, stroke
        and prenatal nutrient deficiency. Review the
        common generic preventive medications your plan
        covers at no cost.


        Some prescription medications and over-the-
        counter medicines (available without a prescription)
        and products are available to you at no cost-share
        (copay, coinsurance and/or deductible). This list is
        updated as the U.S. Preventive Services Task Force
        makes new recommendations.