Well-Being Recharge 2023
Four Reasons to Prioritize Your Preventive Care This Year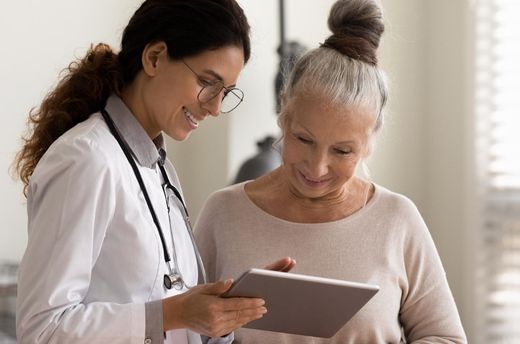 Published February 8, 2023
Thank you for joining us for SchoolCare's 2nd Annual Well-Being Recharge. This week is focused on preventive care and the coverage your health benefits provide. You can also earn cash incentives with the Good For You! Well-Being Program by making preventive care a priority. And don't forget to register for this week's raffle. 50 participants will win a $50 gift card to their choice of Barnes & Noble, Bath & Body Works or Hannaford. Fill out the form lower on this page for a single entry (with a field for a second entry into the raffle.) And there is an additional bonus entry with the weekly video pop quiz below.
---
The importance of routine health care cannot be overstated. These visits are important opportunities to discuss any health concerns with your provider and they can help detect illness or disease earlier when it is easier to treat.
For some, an annual wellness visit is a well-ingrained habit, while for others a visit to the doctor occurs only when symptoms of illness or injury persist. In fact, during the 2021-22 plan year, only 48% of adult SchoolCare participants saw a doctor for their annual check-up.
Here are 4 good reasons to tackle preventive care this year:
1. Preventive care is available at no cost
Annual preventive care appointments covered at no cost to the participant include:
Routine annual exams such as physical, OB-GYN, and vision
Recommended vaccinations such as flu, pneumonia, and shingles
Cancer screenings such as breast, cervical, colon and prostate
If you have a primary care provider, make an appointment today for your annual physical. If you are looking for a local provider, login to your myCigna account and click the "Find Care and Costs" tab to search for providers accepting new patients.
2. Your lab work sets an important health baseline
Your annual biometric screening is also covered at no cost. This lab work includes your cholesterol, blood pressure, triglycerides, glucose and BMI indicators, which provide key data to help promote overall health and reduce health risks like heart disease, stroke and type 2 diabetes of which 80% of cases are preventable.
3. Virtual care is available for wellness screenings (and more)
If you are feeling strapped for time, don't want to wait months for an appointment or don't have a provider you see regularly, all SchoolCare participants also have access to virtual primary care through MDLive. Annual wellness visits can be held via video chat with one of MDLive's board-certified doctors at no cost. You have the option to see the same provider for each appointment to help get to know you and your health and wellness needs. Learn more about MDLive Primary Care here.
In addition to primary care, MDLive provides much more, including 24/7 immediate care, dermatology and counseling, often at lower costs than a traditional appointment with an in-person provider. To get started, set up your MDLive account by logging into myCigna and click the "Talk to a Doctor" button on the home page. Indicate the reason for your visit and create your account to schedule an appointment.
4. You can earn cash incentives for completing no cost preventive care
All SchoolCare subscribers and their covered spouses are also eligible to earn Good For You! Well-Being Program incentives for preventive care up to $350 per year. This includes $75 each (up to 4) for:
Physical Exam
OB/GYN Exam
Prostate Cancer Screening
Cervical Cancer Screening
Colon Cancer Screening
Mammogram
Flu Shot
Preventive care can be completed any time during the plan year (July 1-June 30). You do not have to report these appointments, they will be added to your completed incentives when your claim is processed, or as of February 1 when preventive care incentives were activated.
There are two self-reported preventive care incentives, each $25, for reporting your annual eye and dental exams. Even if you do not have dental insurance through SchoolCare, you can report your annual exam to earn your incentive. These can be found near the bottom of the full incentives list under the "Wellness" tab at myCigna.com.
Additionally, biometric screenings earn a $150 incentive and are automatically populated in your myCigna account within 10 days of your screening. Schedule one today at a Quest Patient Service Center.
All SchoolCare subscribers are eligible to earn up to $800 a year in Good For You! incentives, while covered spouses can earn up to $400. To receive incentive payments, each participant must first complete Cigna's online health assessment.
If you're looking for some great health and wellness resources, check out Cigna's EAP Wellness Webcasts for a wide variety of online webinars for everything from financial wellness to managing stress to tips for healthy eating for you or your kids. Explore on-demand and upcoming live events. You can earn $25 incentives (up to three per plan year) for self-reporting any that you watch in your Mental Well-Being incentive under the "Wellness" tab at myCigna.com.
If you have any questions Cigna's customer support is available 24/7/365 at 800-244-6224. For technical support registering for or using myCigna, call 800-853-2713.
Thank you for participating in SchoolCare's 2023 Well-Being Recharge. If you haven't already, you can subscribe to SchoolCare's monthly email newsletters to stay up-to-date on your benefits and incentive options throughout the year. For even more, follow SchoolCare on Facebook or Instagram. Sign up for SMS updates by texting JOINSC to 603-810-6888. You will receive no more than two text messages per month and can cancel at any time by texting STOP to the same number.