The Pulse of
SchoolCare

, June 2023
Unlock Next Year's Wellness Incentives, HRA Fund With Health Assessment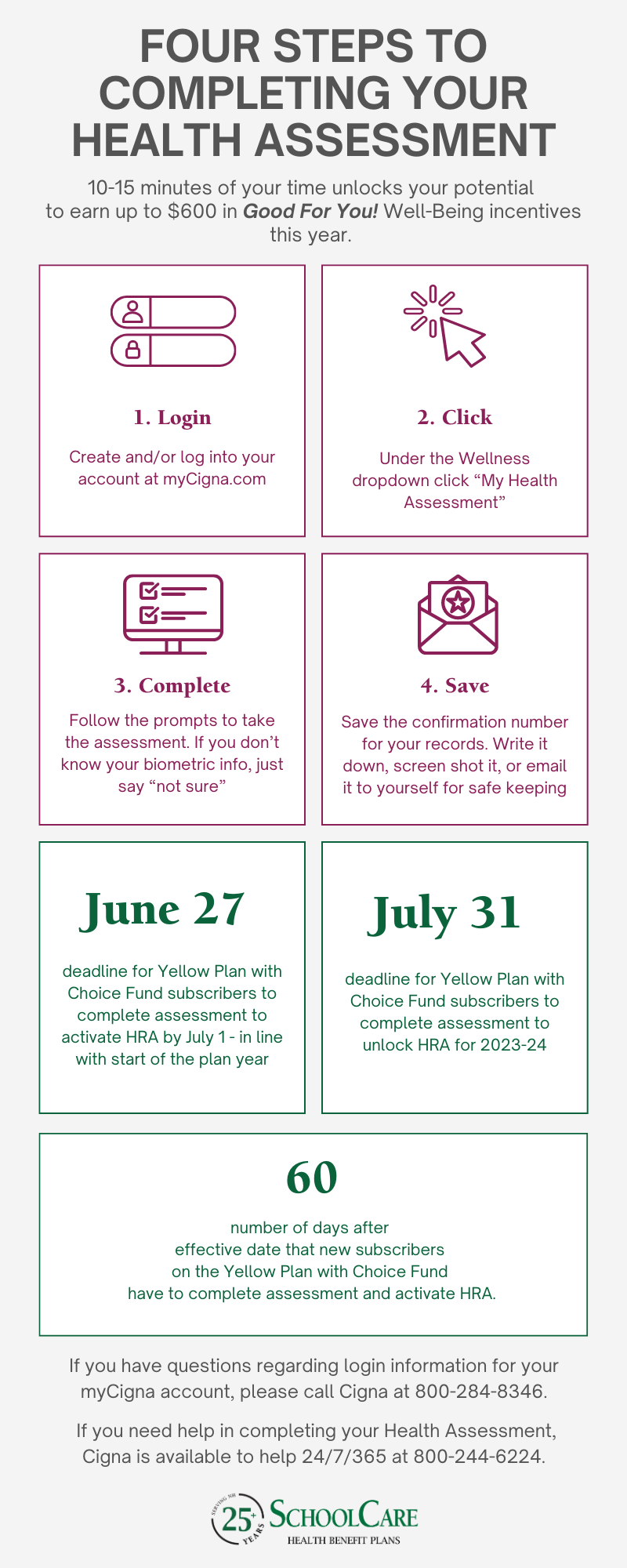 Published June 14, 2023
Kicking off with the new plan year on July 1 is a refreshed Good For You! Well-Being Program that allows all SchoolCare subscribers and covered spouses ­to earn $600 each in wellness incentives. In addition to the adjusted incentive values, this year all incentives will be unlocked on day one.
The key to activating incentives is completing your confidential annual health assessment at myCigna.com. The health assessment allows you to earn your incentive rewards for a wide range of activities like:
annual preventive care awarded automatically when your claims are processed
actively participating in programs like online or telephonic health coaching to improve aspects of your health
taking a few minutes each quarter to self-report activities that contribute to a healthy body or mind
and more
No matter the path you choose, no matter your level of health, every SchoolCare subscriber and/or covered spouse can earn their max incentive.
Your online health assessment takes just 10-15 minutes, and can be completed on your computer, tablet, or phone. If you do not know your biometric numbers (cholesterol, blood pressure, etc.) you can skip those questions.
Health Assessments are required for activation of Choice Fund
If you are a Yellow Plan with Choice Fund Subscriber, it's important to know your health assessment is required if you wish to receive your Health Reimbursement Account (HRA) funds -- $1,000 for individuals or $2,000 for two-party or family plans. Your choice fund, or HRA, is applied to the first portion of your annual deductible, thereby reducing out-of-pocket healthcare expenses.
Only the subscriber is required to take the assessment to activate the choice fund. It must be completed by July 31 for all current subscribers (including current subscribers who are moving from another plan to the Yellow Plan with Choice Fund this year). New SchoolCare subscribers have 60 days from their effective date to complete the assessment for Choice Fund activation.
Wellness incentive reminder
If you completed your health assessment for the 2022-23 plan year, there are a couple weeks left to earn your incentives. Take a few minutes to login to your myCigna account to see what you have left to earn toward your max. There is still time to work toward your health coaching or Omada goals or self-report healthy activities. If you are using Apps and Activities make sure to complete your goals before the program sunsets on June 30th.