Well-Being Recharge 2022
Strengthen Your Physical and Mental Health Through Exercise
Published January 12, 2022
Welcome to Week 2 of SchoolCare's 2022 Well-Being Recharge. This week, we will focus on exercise to improve your physical and mental health and information about a new, free benefit to help with chronic and injury-related joint pain. Watch the video to hear more from NEA-NH/SchoolCare's Coordinator of Benefit Programs, Jeff Kantorowski, about this new program available to all SchoolCare Cigna medical participants age 18 and older.
*And don't forget to register for this week's raffle! We have four (4) gift cards to Flote in Portsmouth or Hampton and six (6) Series 3 Apple Watches! Details in the image below. Raffle registration is open until Tuesday, Jan. 18, 2022, at noon.
Regular exercise has many benefits, particularly, keeping your physical health in check by helping to prevent or improve medical conditions. It is also shown to improve your emotional and mental health as well as self-esteem and cognitive function.
Exercise does not have to be high intensity, nor does it mean pricey gym memberships. No matter your age or fitness level, there are ways to add activity to your day. Check out suggestions for getting started, and as always, we recommend you speak with your doctor if you are planning to significantly change your level of activity.
Free In-Home Exercise Therapy
If chronic or injury-related joint pain regularly hinders your ability to exercise, you are not alone. Last year alone, 57% of SchoolCare's subscribers – more than 12,000 individuals – saw a doctor for joint pain or injury.
SchoolCare announced in November a new partnership with Hinge Health to provide no-cost digital exercise therapy for all SchoolCare/Cigna medical plan participants age 18 and older. Whether you are dealing with a chronic condition, overcoming an injury or need support before or after a surgery, Hinge Health offers innovative virtual programs in easy 15-minute sessions that can be done from your home.
As a SchoolCare/Cigna medical participant, you can connect live with one of Hinge Health's certified health coaches or physical therapists who will meet with you virtually, one-on-one, to tailor your exercise/therapy program to your specific needs.
What's more, Hinge Health offers preventive programs to help keep you active and injury-free. Read more about Hinge Health here, watch the video above, or register today to get started.
Exercise and Earn Cash for Your Efforts
One of the best things about the Good For You! Well-Being Program is it is designed to meet you where you are. Whether you are a fitness fanatic, someone working their way back from injury or simply looking to increase your activity to improve your health and well-being, you can earn cash incentives for the effort you put in. There are multiple ways to earn these incentives:
To get started, visit myCigna.com and click on "Exercise" under the "Wellness tab."
Flyers: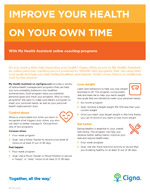 Online Health Coaching Flyer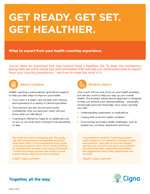 Telephonic Health Coaching Flyer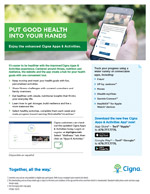 Apps & Activities with Rewards Flyer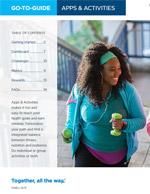 Apps & Activities How-To Guide
Healthy Events Flyer
Receive the remaining weeks of the Well-Being Recharge in your inbox, and stay up-to-date with your benefits year round by subscribing to SchoolCare's email newsletters. For even more, follow SchoolCare on Facebook.