Well-Being Recharge 2022
Find Your Way to Good Health With a Balanced Diet
Download a text transcript of this video
Published January 26, 2022
This is the final week of SchoolCare's 2022 Well-Being Recharge. This week focuses on the last two components of the six basics of healthy living – food and weight. Group Relations Specialist Chris Glenn discusses the connection between a healthy diet and weight management then dives into some of the ways your SchoolCare Benefits can help on your health journey in this week's video.
*Don't forget to register for this week's raffle! We are giving away six (6) FitBit Versas and four (4) $100 Hannaford Gift Cards. Details and code word clue in the image below. Raffle registration is open until Tuesday, Feb. 1, 2022, at noon.
One way to help live your healthiest lifestyle is through a balanced diet that includes a variety of healthy foods and limits those high in saturated fat and sugar. Dark leafy greens, citrus fruits, root vegetables and lots of fresh herbs are great staples to include in your diet during these winter months to provide fiber, vitamins and minerals.
There are some great resources available in the Center for Disease Control and Prevention's Healthy Eating for Healthy Weight section to help get you started on a path to healthier eating for not only for you, but your family, too.
A healthy diet is central to so much of your holistic health. If you are overweight, dropping just 5-10% of your total body weight can improve your blood pressure, blood cholesterol and blood sugars. It provides fuel for exercise, supports mental clarity and can help with improved sleep. Turning to your SchoolCare benefits is an excellent way to get support if you need it to maintain a healthy diet, improve your overall wellness and reduce your risk of chronic disease.
Meet With a Nutritionist
Your SchoolCare/Cigna medical plan covers consultation with in-network nutrition counselors, registered dieticians, and naturopathic doctors as it does appointments with physicians and mental and behavioral health providers. Appointments are subject to your plan's in-network benefit cost share and there is no referral required to seek a provider. Find an in-network provider by logging in to myCigna, clicking on the Find Care & Costs menu and search Doctor by Type, or search for a specific provider to see if they are in-network.
There are also several ways to improve your nutrition and earn cash incentives through SchoolCare's Good For You! Well-Being Program.
The Omada Program
Did you know that one in three people are at risk for type 2 diabetes?
The Omada Program is a lifestyle change program for anyone at risk of type 2 diabetes or heart disease and it is offered at no cost to eligible SchoolCare/Cigna medical plan participants. Omada focuses on building sustainable healthy habits and provides personalized digital support and tools to help you take control of your health. Learn more.
With Omada, you can earn $100 by completing 16 lessons within a 26 week period. Earn another $250 by reducing your weight by 5% during the program. See if you are eligible for Omada.
Online Health Coaching
There are a few online health coaching programs to choose from that can help with your diet, such as "Balance Your Diet" and the "Lose Weight Plan." Set your goals, take action and earn your $50 incentive. (Up to $250 per year.)
There are additional plans that include diet and weight management help with coronary artery disease and diabetes.
Telephonic Health Coaching
Choose Support YOU in achieving a health goal ($50) - Achieve a fitness, diet or health goal with the help of a trained health coach by setting personal goals and achieving them.
Or select Make progress toward overcoming a chronic health problem ($100) - Work one-on-one with a health coach to address a chronic health problem, like type 2 diabetes or heart health, that can be impacted by improving your diet.
Apps and Activities
Set up challenges for yourself or for you and friends, like cooking healthy meals at home, starting the day with a healthy breakfast or packing a healthy lunch. Set your guidelines and earn stars by logging your progress. Collect 20 stars during your program and earn $50.
Check these and more wellness incentives by logging into myCigna and clicking on the Wellness menu.
Flyers: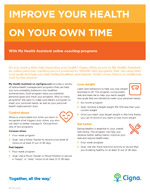 Online Health Coaching Flyer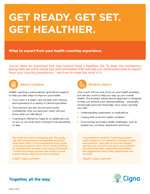 Telephonic Health Coaching Flyer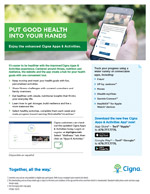 Apps & Activities with Rewards Flyer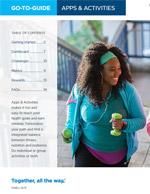 Apps & Activities How-To Guide
We hope that you learned something new about your SchoolCare benefits and the Good For You! Well-Being Program during these last four weeks. Click on the Wellness Menu above for everything you need to know about earning you wellness incentives. Stay up-to-date with your benefits year round by subscribing to SchoolCare's email newsletters. For even more, follow SchoolCare on Facebook.