The Pulse of "
SchoolCare

, Summer 2021
Who do I call when I have questions about my benefits?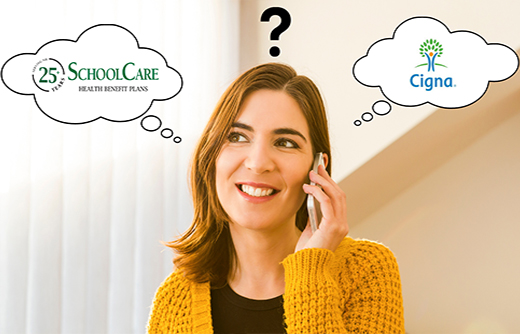 Published July 8, 2021
What is the difference between Cigna and "SchoolCare? Who do I contact for assistance? We understand navigating your health benefits isn't always easy. As a new plan year kicks off, we want to make sure you know who to call when you have questions.
As "SchoolCare's trusted partner, Cigna helps us administer your health benefits. This partnership allows us to provide you with all-encompassing guidance through any of your benefit needs.
Cigna is your one-stop-shop:
Call Cigna at 800-244-6224 or log into your account at myCigna.com/the mobile app to view online tools and live chat. A Cigna guide can assist you 24/7/365 with all your healthcare needs such as:
Finding in-network care
Understanding your coverage
Getting medications or treatments approved
Earning incentives with the Good For You! Well-Being Program
Checking claims and account balances
And more!
Looking for additional assistance?
If you feel that you need additional support after talking to a Cigna representative, your "SchoolCare team is always here as your advocate. Find more helpful resources at schoolcare.org or contact a member of our team.