The Pulse of
SchoolCare

, December 2022
Kick Off the New Year With Good Dental Health Habits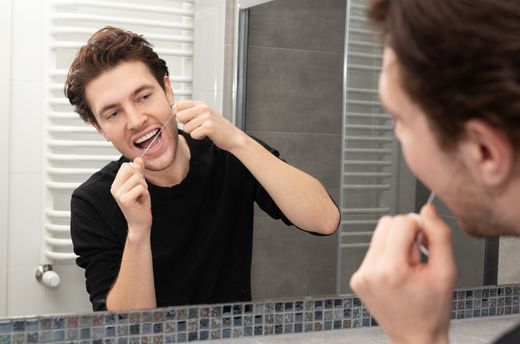 Published December 20, 2022
When the new year rolls around and setting new goals is top of mind, don't forget that making small changes to your habits can make a big difference.
This includes ways to maintain or improve good dental health.
Did you know that the American Dental Association recommends brushing your teeth for two full minutes two times per day? And that you should toss your toothbrush every 3-4 months because when bristles become frayed, they become less effective? It's easy to lose track so when you open a new brush, set a calendar reminder to replace it in 100 or so days.
Read more about the importance of preventive dentistry and how it impacts your overall health.
Other healthy habits you can build (if not already doing so) include:
Getting at least two dental checkups/cleanings this year
Flossing once per day
Using mouthwash to remove food particles and bacteria from your mouth
Eating sugary and acidic foods in moderation as they can contribute to tooth decay and enamel damage, respectively
For SchoolCare/Cigna members with dental insurance, your plan covers two preventive dental exams each plan year and four cleanings. SchoolCare's dental plans also provide various levels of coverage for diagnostic care, fillings, and basic restorative work, as well as major restorative care and orthodontics.
To learn more about your specific dental coverage find your employer in the dropdown menu here and click on the "Dental" link under Benefit Summaries.
New this year, SchoolCare subscribers and their covered spouses can earn $25 in Good For You! Well-Being Program incentives for self-reporting one of your dental exams as part of your preventive care. Reporting for this option won't become available in your myCigna portal until the beginning of February, but you can report an exam from any time in the plan year beginning July 1, 2022, through June 30, 2023.
Mouth-Healthy Holiday Snacks
Watching your sugar intake for the sake of your teeth (and perhaps your waistline, too) doesn't mean skimping on holiday fun. Check out these snack suggestions from the ADA for some festive, healthy, low-sugar treats.