The Pulse of
SchoolCare

, April 2022
Reap the Health Benefits of Planting and Tending a Garden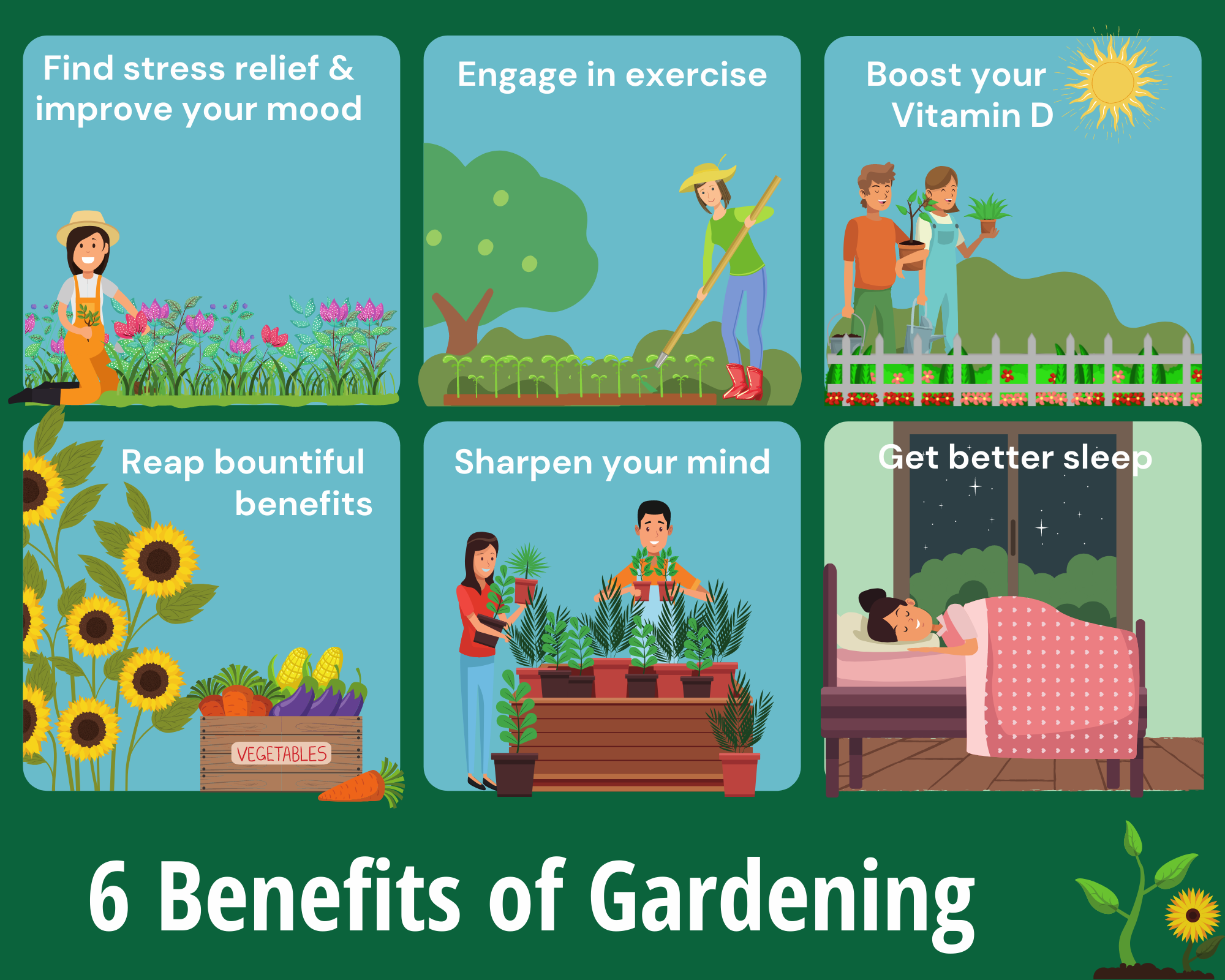 Published April 12, 2022
Did you know that April is National Garden Month? Whether you are an expert green thumb or new to the hobby and feeling a little green, it's the perfect time of year to dig into the soil and reap the numerous health benefits of sowing a garden. Don't have a yard you can dig up? Container gardening is easier-than-ever with options for raised garden beds or table planters if you only have a balcony or very sunny window.
Six Health Benefits of Gardening:
Find stress relief and improve your mood – Take the time to disconnect from everyday stressors and connect with the earth. According to this study, people who garden for stress relief saw a greater decline in stress and increase in mood than those who chose to read to destress.
Engage in exercise – It's true. Gardening can use all your major muscle groups. Digging, tilling, weeding and trimming shrubs uses your legs, back, arms, shoulders, neck, abdomen and glutes. Lifting bags of soil or pushing a wheelbarrow provides some weight training. Weeding and planting helps you stretch. Even watering your garden can provide moderate exercise.
Self-report an hour of gardening as a healthy event and earn $25 with the Good For You! Well-Being Program.
Boost your Vitamin D – Getting out in the sunlight can improve your mood, and the fresh air from extra time outdoors is good for your overall health. Our warm seasons in New Hampshire are short. Maximize your time outdoors while you can!
Reap bountiful benefits – Do you love fresh veggies during the summer? Are you the kind of person who is cheered by having fresh flowers in your home, classroom or office? Taking the time to plant and maintain a garden provides bountiful rewards.
Sharpen your mind – Learning a new skill or practicing, honing and even teaching an old one are shown to help improve your memory and form new neural pathways in your brain.
Get better sleep – Many of the above benefits tie together for one super benefit – improved sleep. Between physical activity, reducing stress, improving your mood, adding some super fresh vegetables and nutrients to your diet, you should sleep like a baby.
Skip The Process, Enjoy The Benefits
If gardening isn't your thing, consider a couple ways to add fresh local vegetables to your diet by joining a CSA (Community Supported Agriculture) with a local farm or do your fruit and vegetable shopping at a nearby farmstand. Want fresh flowers to brighten your days? Join a monthly flower subscription service or visit your local florists for the freshest blooms they have to offer.
Garden Inspo
Get social and share your garden pics on Facebook or Instagram and tag SchoolCare (@NHSchoolCare). We'll share photos in our reels or feeds for great garden inspiration from our members!