Guard Against Flu With Vaccine This Fall -- Employer-Hosted Clinics Begin This Week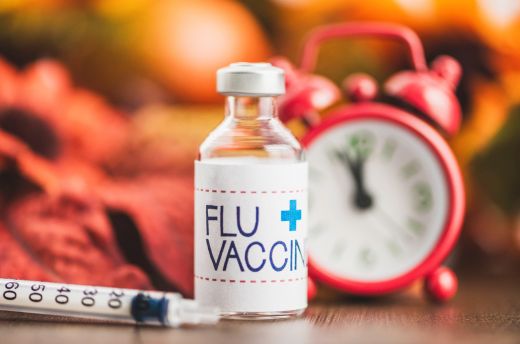 Published September 1, 2023
Though the weather feels like the height of summer, fall is coming and so too is flu season. Your best way to reduce the risk of flu and its potentially serious complications is an annual flu shot, which is available to you at no cost with SchoolCare.
The Centers for Disease Control and Prevention (CDC) says vaccination should ideally take place from September to October or "as long as influenza viruses are circulating."
Beginning as early as this week, SchoolCare Member Groups statewide are offering free vaccine clinics for employees and their families. Check with your employer to find out when a clinic may be hosted at your office or within your school district.
Earn a $50 well-being incentive for your flu shot
In addition to getting your flu vaccine at no cost, SchoolCare subscribers and covered spouses are eligible to automatically earn a $50 Good For You! Well-Being Program incentive when Cigna processes your claim. If you haven't yet completed your online health assessment to activate your Good For You! incentives, login to your myCigna account and click "health assessment" under the Wellness tab to get started.
If your employer is not hosting a clinic, you can still get a no-cost flu vaccine at your local Rite Aid or other pharmacy or with your primary care provider and earn your Good For You! incentive.*
A few important things to note
You must present your

SchoolCare

/Cigna ID card at the time of service. If you don't have your physical card with you, you can access it in your myCigna account either online or via the app.
Vaccines at the employer-hosted clinics are available to family members who do not have

SchoolCare

insurance. They may present their own insurance card and pay $0 or their co-pay if not fully covered. If your family member is uninsured, they will be charged $32 at the time of service for a quadrivalent flu vaccine.
Clinics will offer additional vaccines including Pneumonia (Prevnar 20/Pnuemovax 23), Shingrix (for shingles) and tetanus, diphtheria & pertussis (Tdap). COVID-19 vaccinations may also be available.
According to the CDC, "any available vaccine is recommended for people ages 6 months to 64 years old. People ages 65 and older should get one of the higher-dose versions of the vaccine: quadrivalent high-dose inactivated influenza vaccine, quadrivalent recombinant influenza vaccine or quadrivalent adjuvanted inactivated influenza vaccine." For more on flu prevention and protection, click here.
*If you do not provide your SchoolCare insurance information at the time of service, a claim will not be processed by Cigna, and we will be unable to issue the $50 incentive.