The Pulse of
SchoolCare

, June 2022
Prevention for the Whole Body: Don't Forget the Dentist!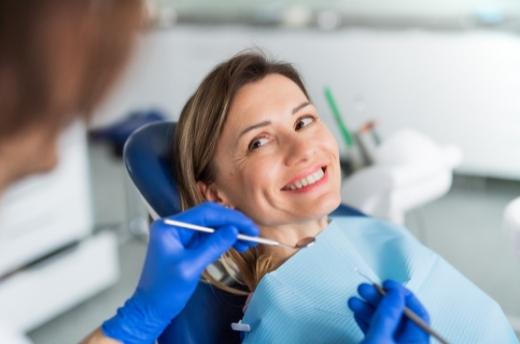 Published June 2, 2022
If you have dental coverage through your employer and you haven't been for a visit yet this year, you may still have time to get on your dentist's schedule before the plan year ends. However, even if you can't, your dental coverage through SchoolCare/Cigna offers at least one preventive dental exam and at least two cleanings each year, so your benefit will reset on July 1st. Making an appointment now can help you kick off the plan year to a healthy start.
Routine Care for Prevention
There are numerous benefits to seeing your dentist for routine exams and cleanings, including early detection of cavities, gum disease and oral cancers and treatment of bad breath, among others. Did you know your dental health can impact your physical health and, conversely, your physical health also can impact your dental health?
In addition to regular trips to the dentist, daily dental hygiene is important. Brush up on these tips from Cigna.
Brush your teeth at least twice a day with fluoride toothpaste. It is recommended to brush your teeth for two minutes each time.
Brush gently. The tips of the bristles do the cleaning. Don't squash them.
Change the position of the brush frequently. Move slowly across all the surfaces of every tooth.
Floss daily to remove plaque from between your teeth and under your gum line, where your toothbrush may not reach. That's where gum disease often begins.
Additional Benefits for Dental Care.
All SchoolCare/Cigna subscribers can self-report one annual cleaning or exam as part of the Good For You! Well-Being Program. Even if you don't have dental care through SchoolCare, if you visit the dentist for a preventive appointment, you can earn $25 per year.
Further, SchoolCare/Cigna participants with dental coverage also have access to the Oral Health Integration Program, which offers additional cleanings and services for people with certain medical conditions. Read more here.
Looking for a Dental Provider?
You can locate in-network adult and pediatric dentists by logging into your myCigna.com account and clicking on the Find Care & Costs menu. To learn more about your dental plan coverage, choose dental from the dropdown "Coverage" menu.